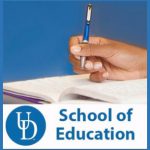 Please join the School of Education in congratulating its faculty, students, and SOE colleagues in affiliated centers on their achievements over May 2016.
The School of Education monthly achievements is a regular feature of the news section of the SOE website. To submit achievements, please email Jessica Henderson by the last day of the month. Please consider sharing recent awards or grants, publications, presentations, and collaborations across campus or in schools.
School of Education shares May 2016 achievements
Convocation 2016
 362 students graduated from UD's College of Education and Human Development over Memorial Day weekend with undergraduate degrees, associate of arts, career and life studies certifications, master's and doctorates. The School of Education also graduated the first cohort enrolled in it's online master's degree in teacher leadership
Our graduates have demonstrated a commitment to making a difference in the lives of children and families, locally and around the world. They have conducted research, provided valuable services to the community and embraced a global perspective to teaching and learning. Read our "Congratulations to our 2016 graduates!" post for more information.
Celebration of Excellence
On May 13, CEHD held its Celebration of Excellence, honoring undergraduate and graduate students, as well as faculty, for their accomplishments. In May, the School of Education recognized four faculty members who have demonstrated superior commitment to their fields. Read more in "Celebration of Excellence recognizes faculty research, teaching, and service."
Laurie Palmer received the Second Mile Award in recognition and appreciation of exemplary support and service to the field of education.
Rachel Karchmer-Klein received the Distinguished Faculty Award.
Adrian Pasquarella received the Dean's Faculty Research Award.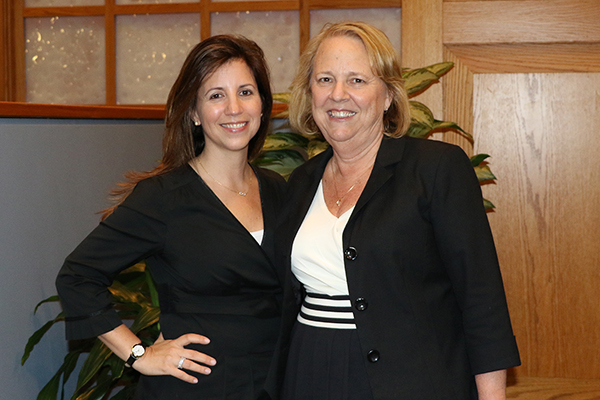 Awards
Ed.D. in educational leadership alumnus Nader Makarious, a high school chemistry teacher at Brandywine High School, received the 2016 American Chemical Society's Teacher of the Year Award.
Ph.D. in education alumna Chunyan Yang has received the 2016 Outstanding Dissertation Award from Division 16 of the American Psychological Association. The award will be presented at the annual conference in Denver, Colorado in August.
Publications
Laura Eisenman with Mary Culnane, a Ph.D. student specializing in urban affairs and public policy and Ph.D. in education alumna  Aideen Murphy are awaiting the publication of their article, "College peer mentoring and students with intellectual disability: Mentors' perspectives on relationship dynamics" in the Journal of Inclusion.
Roberta Golinkoff, with doctoral and postdoctoral students, published the following article and books:
Resnick, I., Verdine, B., Golinkoff, R. M., & Hirsh-Pasek, K. (2016).  "Geometric toys in the attic? An analysis of early exposure to geometric shapes." Early Childhood Research Quarterly, 36, 358-365.
Pace, A., Hirsh-Pasek, K., & Golinkoff, R. M. (2016). "High quality language is high quality learning, pp. 45-66." In S. M. Jones & N. K. Lesaux (Eds.), The leading edge of early childhood education: linking science to policy for a new generation of pre- kindergarten.  Cambridge: Harvard Education Press.
Toub, T. S., Rajan, V., Golinkoff, R., & Hirsh-Pasek, K. (2016).  "Playful learning: A solution to the play versus learning dichotomy (pp. 117- 141)."  In D. Berch & D. Geary (Eds.), Evolutionary perspectives on education and child development.  New York, NY: Springer.
Roberta Golinkoff is also expecting the publication of the following articles:
Zosh, J.M., Hirsh-Pasek, K., Golinkoff, R.M., & Parish-Morris, J. (in press). Learning in the digital age: Putting education back in educational apps for young children.  Encyclopedia on Early Childhood Development.
Konishi, H., Stahl, A., Golinkoff, R. M., & Hirsh-Pasek, K. (In press).  Individual differences in non-linguistic event categorization predict later motion verb comprehension. Journal of Experimental Child Psychology.
Amanda Jansen with co-authors J. Middleton and J. Goldin are expecting the publication of a chapter about motivation in mathematics in Attitudes, Beliefs, Motivation and Identity in Mathematics Education, Springer International Publishing, 2016.
Nancy Jordan along with co-authors published the article "Supported self explaining during fraction intervention" in the Journal of Educational Psychology.
 Nancy Jordan, her doctoral students, and postdoctoral fellows have published the following article:
Resnick, I., Jordan, N. C., Hansen, N., Rajan, V., Rodrigues, J., Siegler, R. S., & Fuchs, L. (2016). "Developmental growth trajectories in understanding of fraction magnitude from fourth through sixth grade," Developmental Psychology, 52 (5) 746-757.
Nancy Jordan and her doctoral students and postdoctoral fellows are awaiting the publication of the following articles:
Jordan, N. C., Resnick, I., Rodrigues, J., Hansen, N. & Dyson, N. (in press). "The Delaware longitudinal study of fraction learning: implications for helping children with mathematics difficulties." Journal of Learning Disabilities.
Hansen, N., Jordan, N. C., & Rodrigues, J. (in press). "Identifying persistent learning difficulties in fractions: A Longitudinal study of student growth from third through sixth grade." Contemporary Educational Psychology.
Joshua Wilson and school psychology doctoral student Amanda Czik published the article "Automated essay evaluation software in English language arts classrooms: Effects on teacher feedback, student motivation, and writing quality" in Computers and Education, 100, 94-109.
Presentations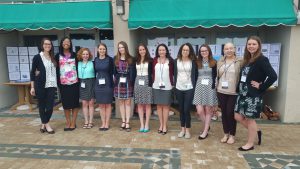 Eleven educational specialist (Ed.S) students in the school psychology program presented their posters at this year's Delaware Association of School Psychologists (DASP) conference. As a part of their graduate program, Ed. S. students complete a full-time, year-long internship in schools. Students present one project, developed over the course of their internship, in poster form at the DASP state conference and at the UD School Psychology luncheon.
Roberta Golinkoff attended the Sesame Workshop on May 24.
Roberta Golinkoff presented on "The power of play: Stacking the blocks of learning" at the 2016 National Smart Start Conference in Greensboro, NC.
Roberta Golinkoff presented the following:
Brezack, N., Marzouk, M., Golinkoff, R. M., & Hirsh-Pasek, K. (2016, May). Infants recognize statistically learned action patterns performed by a new actor at 14 months. International Congress on Infant Studies, New Orleans, LA.
Schroer, S., Reed, J., Hirsh-Pasek, K., & Golinkoff, R. M. (2016, May). (Not so) small talk: How cell phone conversations affect parent-toddler word learning exchanges. International Congress on Infant Studies, New Orleans, LA.
Reed, J., Hirsh-Pasek, K., & Golinkoff, R. M. (2016, May). Where's the pause button? Toddlers' word learning following interrupted dyadic interactions. International Congress on Infant Studies, New Orleans, LA.
Golinkoff, R. M., Konishi, H., Stahl, A., & Hirsh-Pasek, K. (2016, May). Individual differences in non-linguistic event categorization at 13-15 months predict motion verb comprehension at 27-33 months. In A. Gampe (Chair), How to make words out of actions: Longitudinal links between perception and language. Symposium accepted for presentation at the International Congress on Infant Studies, New Orleans, LA.
Nancy Jordan gave an invited presentation at the Arena for Mind, Brain, Learning and Environment (AMBLE) International symposium, held at the University of Gothenburg, Sweden on May 11.
Allison Karpyn with Ai Ye, a doctoral student specializing in  evaluation, measurement and statistics and others gave the poster presentation "Evaluating the impact of health food product offerings and tastimals marketing at the zoo" at the ACCEL Community Exchange in Wilmington, DE. More information on the program is available here.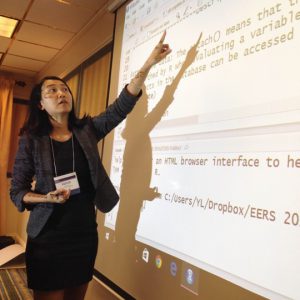 Professional development
Doctoral students Dandan Chen, Yueyue Fan, Yi-Cheng Pan facilitated a 90-minute workshop called "Unpacking R for Evaluators" at the recent Eastern Evaluation Research Society Conference on May 2.
Roberta Golinkoff led a professional development workshop titled "Goo goo ga ga: What's new in language development?" for Pediatricians of Delaware Continuing Education, Christiana Hospital, Christiana, DE.
Service
Roberta Golinkoff was elected Treasurer at the International Congress of Infant Studies.
Roberta Golinkoff became a member of Organizational Committee at the Institute of Education Sciences Annual PI Meeting, Washington, D.C.
Center for Research Use in Education (R4S)
Publications
Elizabeth-Farley-Ripple and Kati Tilley, Ph.D. student specializing in evaluation, measurement, and statistics, are preparing "Contrasting school-based practitioner and researcher perspectives on the relationship between research and practice" for a special issue of Educational Research.
Allison Karpyn, Elizabeth-Farley-Ripple, Kati Tilley and Kalyn McDonough, research project coordinator, are preparing a book chapter titled "Defining how we get from research to practice: A model framework for schools" in Yunus Eryaman, M. & Schneider, B. (Eds.), Educational policy, research and practice for the public good: Evidence-based? evidence-informed? or does evidence matter?, Spring Book Series.
Center for Research in Education and Social Policy
Publications
Allison Karpyn and her co-authors are expecting the publication of the following articles.
Karpyn, A., Allen, M., Gardner, M., Marks, S., (2016). "Innovative zoo partnership lending new insight into the power of animals to market healthy food to kids." Delaware Journal of Public Health.
Karpyn, A., Allen, M., Marks, S., Filion, N., Humphrey, D. Ye, A., May, H., Gardner, M., (2016). "pairing zoo-animal characters with produce stimulates selection among children." Health Education & Behavior.
Allison Karpyn and co-author Samantha Marks wrote "Could Animals Help Kids Want Their Broccoli and Eat it, Too?" in Zoo News (April-July 2016). The online version is available here.
Professional Development Center for Educators
Presentations
Jackie Wilson, Sharon Brittingham, and John Kreitzer presented at the National Summit for Principal Supervisors hosted by Broward County Public Schools and Great City Schools on May 8, 9, 10. Topics of presentations included "Coaching principals," "Developing evaluation systems for principals," "Succession management for school districts," and "Professional development for principals."
Service
Jackie Wilson, Interim Director for PDCE, reviewed 12 university principal preparation program applications in response to an RFP on behalf of the Wallace Foundation. The Wallace Foundation is launching a five-year, $47 million initiative to help universities improve how they prepare future principals, especially for the nation's highest-need students.
Professional development and partnerships
Jackie Wilson facilitated a group of State Affiliate Executive Directors on behalf of the National Association of Secondary and Elementary School Principals in Savannah, GA on May 18. She provided states with information about the delivery of high quality, research-based professional development for principals and assistant principals.
Photos courtesy of Alison Burris, Dandan Chen, Brian Garber, and Kathleen Minke.