Sharon Walpole develops open-access elementary English curriculum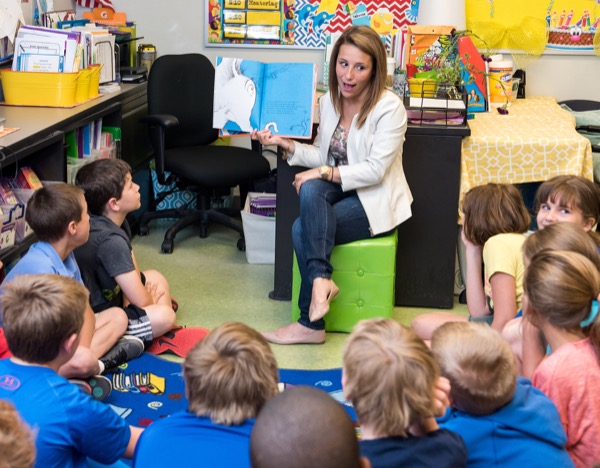 In order to help children read more complex texts, Sharon Walpole, professor in the University of Delaware School of Education, and her colleague Mike McKenna of the University of Virginia have developed Bookworms, a free, open-access, elementary English Language Arts (ELA) curriculum with more than 1,100 lesson plans.
In contrast to most curricula, Bookworms meets the standards of difficulty in the Common Core State Standards and uses "real" books rather than expensive reading packages with large collections of books and lessons plans. It also brings more reading to the classroom and emphasizes daily writing.
Walpole and McKenna have developed Bookworms in a school district in Jefferson County, Georgia, as part of the Georgia Striving Readers project, a pre-K-12 professional development initiative.
"Currently, I'm showing second grade teachers how to make their lesson plans interactive. We visit the schools three days each month to observe, model, provide feedback and meet with teachers to improve the curriculum," said Walpole. "Videos of our lessons on the Georgia Striving Readers site show the curriculum in action."
Bookworms centers on shared reading, interactive read-aloud or writing, and small-group, differentiated skills instruction. Students learn phonemic awareness, word recognition, vocabulary and comprehension through highly interactive lessons in brief instructional segments.
Demonstrating success
Now in their third year, Walpole and McKenna have promising evidence that Bookworms improves student achievement. Compared to 20 other Georgia districts with the same assessments, the Jefferson County students grew the most in every grade level one year after using Bookworms. In the second year, they maintained these high levels of growth.
"These results are especially impressive in a place where achievement was historically low and the students are living in poverty," said Walpole. "Children could have performed worse at first, especially since this was a struggling district under the old standards and we gave them even more challenging material to read every day. It could have been that the material was too hard, but that wasn't the case."
Increasing Bookworms's scope
Walpole and McKenna recently received a $702, 285 U.S. Department of Education grant to fully assess and improve their curriculum. To date, seven districts in Georgia and four schools in Seaford, Delaware, use Bookworms exclusively.
The Georgia Striving Readers site has registered over 140,000 visits from 150 countries, and the Bookworms lesson plans have registered 13,000 page visits.
"I am so excited to do this work in Delaware," said Walpole. "I've been providing direct assistance in Seaford, and I've begun building online modules that feature Seaford teachers. Kimberley Wagner, a staff member in CEHD's Professional Development Center for Educators, works with me in this partnership."
Brandywine School District's kindergarten through fifth-grade teachers also use Walpole and McKenna's materials in their response to invention lessons. In Christina School District, Walpole and her School of Education colleague Steve Amendum trained intervention providers and will soon work with fifth-grade teachers.
"The most exciting part of Bookworms has been the students' reactions. To listen and watch a group of students become so engrossed with characters such as Susan B. Anthony and Alabama Moon is invigorating," said Becky Neubert, principal of Seaford Central Elementary School. "Students from kindergarten to fifth grade are using vocabulary that would not have been attempted previously. They are also successful in writing, justifying claims in their answers to questions and then providing even more detail to complete a thoughtful sentence, paragraph or essay."
Walpole was presented with UD's 2016 Excellence in Teaching Award on May 2.
Article by Jessica Henderson
Photo by Kathy Atkinson