ETE major Lucy Font integrates dance into math lessons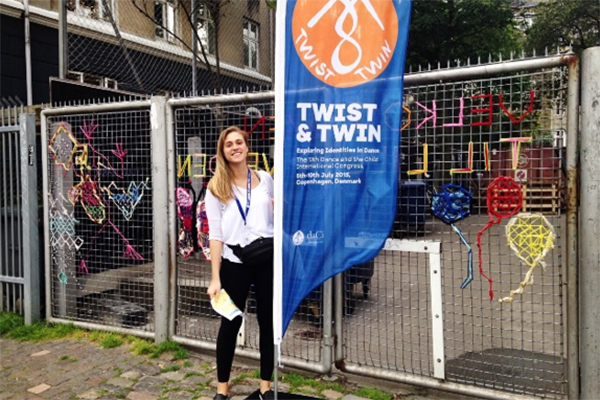 The University of Delaware offers numerous academic and research related avenues for its students. Lucy Font, an elementary education major graduating in May of this year, has taken advantage of the myriad opportunities provided by UD.
On top of majoring in elementary teacher education, Font is minoring in urban education and pursuing a concentration in special education, while also being an ArtsBridge Scholar.
The ArtsBridge program focuses on integrating art into student education and curriculum to promote positive learning environments and experiences.
"I have a lot of interest working with low-income and at-risk populations, and arts integration has proven to be an effective teaching approach in urban areas," said Font. "My major doesn't traditionally have much of a research focus, but ArtsBridge has given me the opportunity to conduct research and gain experience writing and presenting."
Font created four lesson plans integrating dance into a math unit, that she implemented at Downes Elementary School and the Salvation Army Summer Camp for students between the ages of 6 and 11.
As part of her research, she collected qualitative and quantitative data from student journals, pre- and post-assessments and surveys, and videotaped student performances. She then used this data to develop her thesis, "Adding Movement to Subtract Monotony."
Her findings concluded that the arts, specifically dance, are emotionally, cognitively, and behaviorally engaging for students from low-income homes.
In 2014 Font was invited to present her research in 2015 at the Dance and Child International conference in Copenhagen, Denmark, as part of the ArtsBridge program.
"Copenhagen was a great experience because it offered me the chance to collaborate with and learn from educators and arts professionals from all over the world," she said. "I presented my work to a wider audience and received positive feedback from my peers. It was an overwhelmingly positive experience."
After graduation, Font has several goals that she wants to achieve. She has received an offer for a language assistantship program in Spain for the 2016-17 academic year. And she hopes to attend graduate school where she will pursue a master's degree in social work and/or public policy. Ultimately, she would like to work with communities and nonprofit organizations to improve the quality of education available to students from low socioeconomic backgrounds in urban areas.
Font praised the impact of the ArtsBridge America program and the Honors Program at UD, which helped fund most of her trip to Copenhagen. It was a challenge, balancing her research with student teaching and her other coursework, but she had many more positives to speak of.
"UD offered an immense number of opportunities, placing me on my path to accomplishing both my educational and career-based goals," Font said. "I encourage students to take advantage of all the unique experiences here."
Article by William Miller
Photo courtesy of Lucy Font