Project Search, education job fair, April 20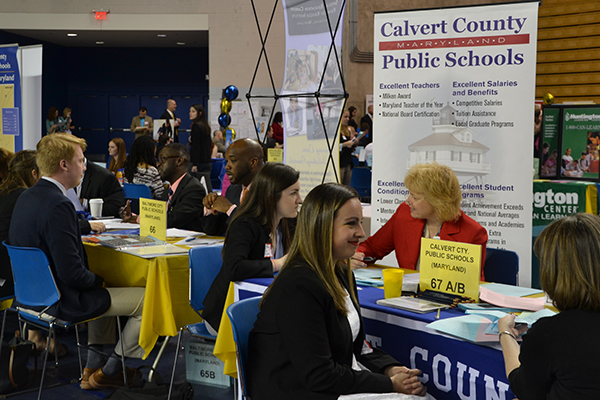 Over 280 recruiters representing 107 school districts from around the country will be at the Bob Carpenter Center on Wednesday, April 20, for the University of Delaware's 38th annual education job fair, Project Search: Careers for Teachers.
Project Search is one of the largest education job fairs on the East Coast. Many of the recruiters come from the Mid-Atlantic region, however this year there are also representatives from employers in Massachusetts, South Carolina, Texas and Nevada.
In addition, recruiters from the Delaware Autism Program, the Delaware Department of Education, ESF Summer Camps, Uncommon Schools, Hybridge Learning Group, and Troops to Teachers will be in attendance.
Kirk Thompson, director of human resources from the Howard County Public School System (HCPSS) in Maryland, says HCPSS has participated in Project Search for over 25 years.
"This is one of our target recruitment events," Thompson said. "The event is top-notch, the candidates are well prepared, and the teachers we've hired from Project Search have been exceptional educators in our school system."
UD education students and alumni are able to submit resumes, as well as conduct on-the-spot interviews with school districts for positions as teachers, specialists and administrators.
"The job market for teachers remains strong in many regions, and this year's event should be especially positive for our students and alumni," said Cindy Holland, assistant director of the University's Career Services Center.
The job fair is free for current students and alumni, and costs $10 for non-UD candidates.
Individuals should register for the event and plan on arriving early in order to have time to schedule interviews. For UD affiliated candidates, check-in will begin at 8 a.m., scheduling at 8:30 and interviews at 9:30.
Project Search is sponsored by Career Services and the University Council on Teacher Education. Those with interest can join the conversation on Twitter by following @UDCareers and including #UDProjectSearch.
Article by Alison Burris.