School of Education graduate program ranks 35th in the nation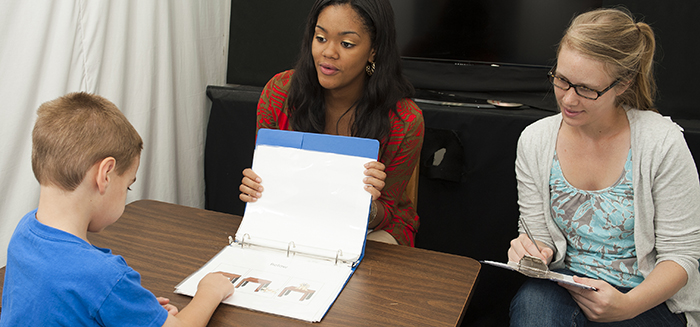 US News and World Report has ranked the
School of Education 35th in the nation
among 376 graduate schools of education. Graduate schools
are ranked
according to quality assessments from peer schools of education and superintendents, student selectivity rates, and faculty resources, including total research expenditures and the percentage of faculty with awards. We invite you to read more about the recent awards received by
Steve Amendum
,
Roberta Golinkoff
,
James Hiebert
, and
Charles Hohensee
. You may also learn about the recent achievements of our faculty and graduate students during Winter Session 2016 and February 2016.
Graduate programs
The School of Education offers a broad portfolio of competitive, research-driven graduate programs, including a Ph.D. in Education program with six specialization areas, a joint Ph.D. in Economic Education, an Ed.D. program in Educational Leadership, and several masters or specialist programs in Educational Technology, Exceptional Children and Youth, School Psychology, Teaching English as a Second Language, and Teacher Leadership. Our new M.Ed. in Teacher Leadership program is offered entirely online, and our first graduating class will receive their degrees this August.
Our graduate classroom
Many of our graduate courses offer our students opportunities for qualitative, quantitative, or mixed-methods data collection and analysis. In the fall 2015 semester, for example, associate professor Amanda Jansen led her students in elementary and high school mathematics curriculum analyses. "My course project investigated how two widely used Common Core geometry textbooks provide opportunities for reasoning-and-proving and a high level of cognitive demand. Proofs are very important for mathematicians, and it's important for mathematics educators to understand how we can support students in learning how to write proofs," said Jen Hummer, a Ph.D. student specializing in mathematics education. "I really enjoyed this study, because I learned more about a critical topic in my field and how to conduct a valuable type of curriculum analysis."
Research opportunities
Our graduate students often receive grants to complete their research or work with our faculty on grant-supported projects. Marisa Kofke, a third-year Ph.D. student specializing sociocultural and community-based approaches, received a Center for the Study of Diversity grant to study "Undergraduate Student Reflections of Disability: Implications for Postsecondary Pedagogy." "I noticed that students in the disabilities studies minor learned new ways to think about disability issues as they take their courses. I wanted to know if there are differences in the way they understood and applied that knowledge," said Kofke. Several graduate students also work with professor Nancy Jordan in the Center for Improving the Learning of Fractions, supported by a $10 million center grant from the Institute of Education Sciences. Jessica Carrique, a Ph.D. student specializing in the learning sciences, Nicole Hansen, a recent Ph.D. graduate in the learning sciences, and Nancy Dyson, a postdoctoral scholar and Ph.D. graduate, work to develop a better understanding of why elementary school students struggle with fractions. Alumni recognition Our talented alumni are also frequently recognized as leaders in the field of education. Lamont Browne, CEO and executive director of EastSide Charter School and Family Foundations Academy, received the prestigious Ryan Award in recognition of his transformative work as a school principal. Established by the Accelerate Institute, the award honors principals of urban schools who have demonstrated accelerated results in underserved schools with a significant population of low-income and minority students. Gabi Koury, a school psychologist in the Red Clay Consolidated School District, was named School Psychologist of the Year by the Delaware Association of School Psychologists. The award recognizes one school psychologist in the state who has excelled in their contribution to the school and students they serve. These contributions may include a commitment to student diversity, school or community collaboration, demonstrated leadership, and the development of students' cognitive, academic, social or life skills. Jeffrey D. Menzer, now director of schools in the Colonial School District, applied research from his doctoral executive leadership portfolio and increased the graduation rate of seniors at William Penn High School to 97 percent in May 2015. Ten years earlier, 12 percent of the 440-student senior class failed to graduate, even though these students had successfully completed the prior three years of high school. Read more about our graduate programs or learn about our Education and HDFS Graduate Association.