Brad Glass will host World Kitchen Series dinner on March 8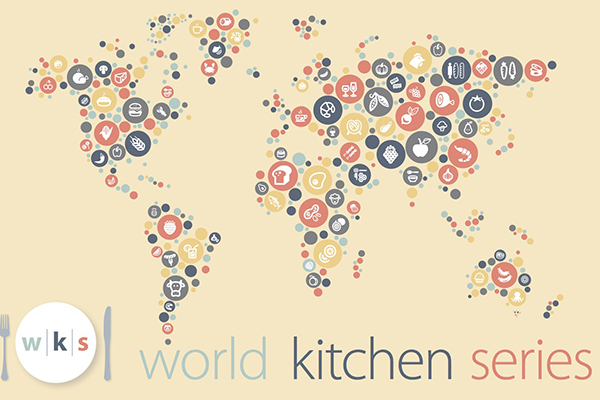 University of Delaware students are invited to celebrate the flavors, sights and sounds of Turkey during the second World Kitchen Series dinner and mixer to be held from 5:30-7:30 p.m., Tuesday, March 8, in the ballroom of the Courtyard Newark-University of Delaware Hotel on the Laird Campus.
The free Art Bridging Cultures program event – exclusively for UD undergraduate, graduate, international and English Language Institute students – will feature an award-winning musical ensemble, international cuisine prepared by a professional chef, quirky interactive art works, and thought-provoking presentations.
The second World Kitchen Series gathering follows the inaugural dinner, which celebrated the Lunar New Year. It will provide students opportunities to prepare a Turkish dish, play Middle Eastern percussion instruments, enjoy a banquet of chef-prepared Turkish cuisine, take in the rhythms and beats provided by a visiting percussionist, sip a cup of Turkish tea while engaging in a game of tavla (or backgammon), and perhaps even win a special prize.
Dinner will be provided by chefs Jon and Semra Tekmen of Semra's Mediterranean Grill in Rehoboth Beach, Delaware, followed by the musical talents of Turkish percussionist Ezgi Elkirmis.
Elkirmis, an awardee of the UD artist-in-residence program, will showcase her darbukan, a Middle Eastern hand drum traditionally performed by men only. Her performance will be followed up with workshops and she will perform in the Master Players Concert Series "iMusic IX: 6ixwire and the World" concert on March 12.
The World Kitchen Series event will be hosted by Brad Glass, assistant professor in UD's School of Education, and several Turkish internationals from within the student body. Glass has recently returned from leading a study abroad class to Istanbul, and several of his students will accompany him to share their impressions and experiences abroad in Turkey.
Space is limited and advance reservations are required. Students can sign up for the free event here. Students who have not signed up will not be admitted.
For those who missed the inaugural World Kitchen Series event, click here for a short video. Future events will feature cuisines and artists from countries such as South Africa, Japan, Saudi Arabia, India, Scotland, and more.
About Art Bridging Cultures
As a part of the Art Bridging Cultures project, the World Kitchen Series is presented by the University's Master Players Concert Series under the direction of Xiang Gao and the artist-in-residence program under the direction of Colin Miller.
This free concert-dinner series, co-sponsored by the English Language Institute, is conceptualized by San Francisco-based consulting director Alex Wang and is open exclusively to UD students.
The World Kitchen Series explores flavors, sights and sounds from across the globe. A wholly immersive and interactive experience, the series invites students to enjoy international cuisines that complement an authentic performance by a leading performing artist/ensemble from that region or country. The series is designed to help students initiate dialogue, network and create community through the arts.
This program is made possible by a grant from the English Language Institute, an organization at the University of Delaware committed to offering the highest-quality intensive English programs.
Other sponsors include the artist-in-residence program, the Department of Hotel, Restaurant and Institutional Management, Vita Nova restaurant and Marriott's Courtyard Newark-University of Delaware Hotel. For a complete list of sponsors, visit the website.
The Art Bridging Cultures project will lead up to a world-premiere concert of original world music titled "iMusic IX: 6ixwire and the World" at 5:30 p.m., Saturday, March 12, in Mitchell Hall. The concert will feature 6ixwire and its world-class collaborators from all around the globe. Tickets can be purchased from the REP box office, by phone at 302-831-2204 or online.
About Brad Glass
Brad Glass is an assistant professor in the School of Education. He teaches mathematics and educational technology courses and supervises middle school mathematics student teachers.
Glass has traveled abroad with elementary teacher education students to Austria, Hungary, Spain and Turkey, where he teaches mathematics courses that are contextualized in the architecture and art of the region.
You may also read this article on UDaily.