Educational Technology conference March 5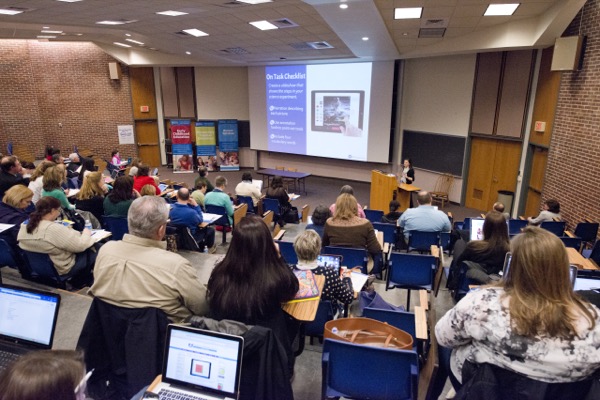 While blackboards and chalk are the traditional symbols of education, today's teachers must be well versed in technology. They are expected to create lesson plans on SMART Boards, post assignments on learning management systems (LMS), build connections through social media, and conduct assessments and interventions using computer apps. The learning curve can seem daunting. To help pre-K-20 educators develop a better understanding of the alternatives now available, the University of Delaware will host its third annual UD Educational Technology Conference (UDETC). This full-day conference on Saturday, March 5, will introduce teachers with little technology experience to the realm of possibilities and provide the more technology-savvy users opportunities to explore newer, cutting edge technologies. The conference will be held from 8:30 a.m. to 3:30 p.m. at the Willard Hall Education Building. More than 20 concurrent sessions will be conducted, taught by UD faculty and staff and local educators. Chris Aviles, the keynote speaker, is an innovative and inspirational educator at the forefront of gamifying the classroom. He serves as an educational technology coach for Fair Haven School District in New Jersey and a Google-certified trainer, innovator, and Google Education Group: New Jersey leader. He was named one of the Center for Digital Education's Top 30 Technologists, Transformers and Trailblazers for 2015. Participants can learn how to:
Coordinate Office 365 across multiple devices;
Conduct online formative assessments for writing;
Create digital content for the classroom; and
Develop maker spaces to encourage creative learning.
A complete list of sessions is available on the UDETC site. "As educational technology becomes a must-have instead of a nice-to-have, UD's Ed Tech Conference provided a much needed opportunity for professionals to learn from each other, and stay on top of the latest trends," said Cindy Luce, who teaches at St. John the Beloved School in Wilmington. "I am looking forwarding to attending the conference again this year." The conference is hosted by UD's Office of Educational Technology, The College School and the Education Resource Center in the College of Education and Human Development. "Applications for educational technology are evolving so rapidly. While we show our teacher education students how to integrate it into their lesson plans, once they're out in the field, it's important to continue to engage our students," said Joanne Jennings, manager UD's Office of Educational Technology. "We created this conference to help educators in all stages of their careers use technology effectively in their classrooms." Registration is required. The cost is $60 ($50 for full-time UD faculty, staff and students) and includes conference materials, parking and lunch. There is still time to register as a presenter (attendance is free). Submit the presentation proposal through the UDETC website. Photo by Lane McLaughlin You may also read this article on UDaily.