Elizabeth Farley-Ripple featured in UD's Research magazine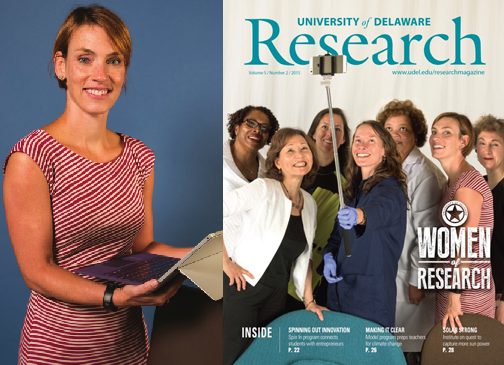 Elizabeth Farley-Ripple, associate director of the School of Education, is featured as one of UD's "women of research" in this month's issue of Research magazine.
In her work as associate director and as a researcher, Farley-Ripple aims to contribute to the evidence base that educators use when making decisions and to increase their capacity and likelihood of using that evidence.  She is co-investigator on two prestigious grants with UD colleagues: a Spencer-funded study with Joan Buttram, director of the Delaware Education Research and Development Center, which examines the relationship between assessment systems, teachers' instructional decisions, and student outcomes, and a $5 million Institute of Education Sciences grant with Henry May, director of the Center for Research in Education and Social Policy, which will be used to evaluate research use in education.
"I want what I do to matter, to help improve schools by helping teachers and leaders positively impact their students," Farley-Ripple says. "I strive to be responsive to real problems of practice in school and for educators to see my work as valuable to their efforts. I may not be on the front lines, teaching a child to learn to read or leading a school, but I can reach and hopefully support countless educators by conducting research that positively influences the capacity and practice of those doing the critically important work in our schools."
For more on this issue and Farley-Ripple's colleagues at UD, please see the UDaily overview of the issue here.  You may access an online version of the "Women in Research" feature here.