Laura Eisenman receives Excellence in Undergraduate Advising Award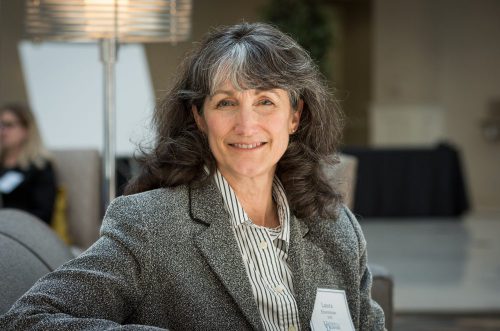 Dr. Laura Eisenman, associate professor in the School of Education and advisor for the interdisciplinary Disabilities Studies (DIST) minor, has been awarded a 2015 Excellence in Undergraduate Advising Award by the Faculty Senate's Committee on Student and Faculty Honors.
Based on student nominations, this award recognizes an advisor's depth of knowledge about programs and opportunities, active involvement in students' academic success, ability to individualize educational goals, and dedication to fostering overall, long-term development.
Professor Eisenman was instrumental in the development and success of the DIST minor, which has grown to the largest undergraduate minor at the university. As minor coordinator and advisor, she works to continually improve the program. For example, she helped to enhance the DIST capstone course and make it available to education students who are committed to a year of student teaching.
In this role, she has gained the respect of many of her colleagues, including Christina Johnston, an Academic Advisor in the College of Education and Human Development.
"I can imagine that many students don't realize all the efforts that it takes to coordinate an interdisciplinary minor that can be applicable to students across campus. Dr. Eisenman does a fantastic job of making the DIST minor not only possible but also attractive to students. She is also very encouraging and helpful to students considering graduate study and employment in special education and disabilities services fields," said Johnston.
Professor Eisenman also works closely with the Center of Disabilities Studies, one of the college's largest centers, and continuously offers her students information on professional development or career opportunities.
"We have ample evidence of the impact of the Disabilities Studies minor on students, both professionally and personally. Laura's expert and sensitive guidance enable students from every college at UD to complement their majors with this interdisciplinary minor," said Beth Mineo, Director of the Center for Disabilities Studies.
Professor Eisenman's students also warmly recognize her dedication to her advisees. Alexis Bigelow, a Masters student in the Exceptional Children and Youth program, noted that "Dr. Eisenman listens constructively to her students' concerns and questions" and that she "is always positive, happy, and encouraging."
Professor Eisenman received this award at the May 4 meeting of the Faculty Senate. She will be honored with a cash award and an inscribed brick in Mentors' Circle outside of Memorial Hall.
For more about this award and other 2015 faculty honors, please see the UDaily article here.
Article by Jessica Henderson