Teachers can enhance leadership online
There is a growing trend to equip teachers to lead others. Recognizing this need, the School of Education has launched an
online master's degree in teacher leadership
. Convenient, flexible, effective, this program helps PK-12 teachers from around the country learn to engage in collaborative professional development, plan for and enact school-wide change and share classroom wisdom with a wider audience. UD's
M.Ed. in Teacher Leadership
is one of the few online master's degrees that include this exceptional mix of components.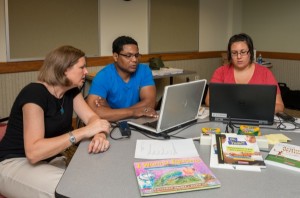 A fully online, 30 credit program that can be completed in 2 years
Curriculum directly aligned to the National Teacher Leadership Standards
Coursework that supports and increases understanding of Common Core State Standards, a nation-wide initiative in education reform
Courses in the online program are offered in 7-week sessions. Thirty credits (10 courses) are required to complete the degree, which can be finished in two years. Candidates can apply for the program at any time during the year. Applications are accepted for five start dates—two in fall, two in spring and one in the summer. For more information about the program, see November's UDaily article, visit www.education.udel.edu/teacherleadership or contact the program coordinator, Dr. Elizabeth Soslau.