Economics Education doctoral student featured
Traditionally, professionals and scholars in economic education have been trained in either economics or education, with little or no formal training in the other area. The need for financial literacy is growing, and so is the demand for professionals and scholars who can educate the community and influence school curricula about core economic issues.
With the goal of closing that gap, UD's Department of Economics and School of Education recently joined forces to launch a new and innovative doctoral program in economic education, drawing on the more than 40 years of expertise of UD's Center for Economic Education and Entrepreneurship.
"Economic problems have become more complex and so have the educational issues," said Saul Hoffman, professor and chair of the Department of Economics in the Alfred Lerner College of Business and Economics. "Having professionals in the field of economic education who have both sets of skills is absolutely necessary. With this curriculum design, there's literally nothing like it anywhere in the country. It's the premier program in economic education."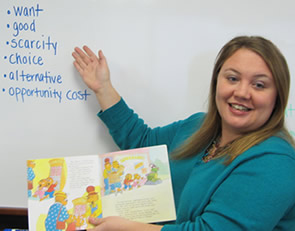 Doctoral candidate Erin Yetter will soon become the first graduate of the UD program, and has already begun her new position as an economic education specialist with the Federal Reserve Bank of St. Louis, Louisville Branch where she writes curriculum materials, conducts professional development for teachers and continues to research student learning of economic concepts. "I found the perfect career for my skill set and education," said Yetter. "I could not have found a better fit for what my training and education prepared me to do."
This piece appears in GradImpact: Graduate and Professional Education News at the University of Delaware