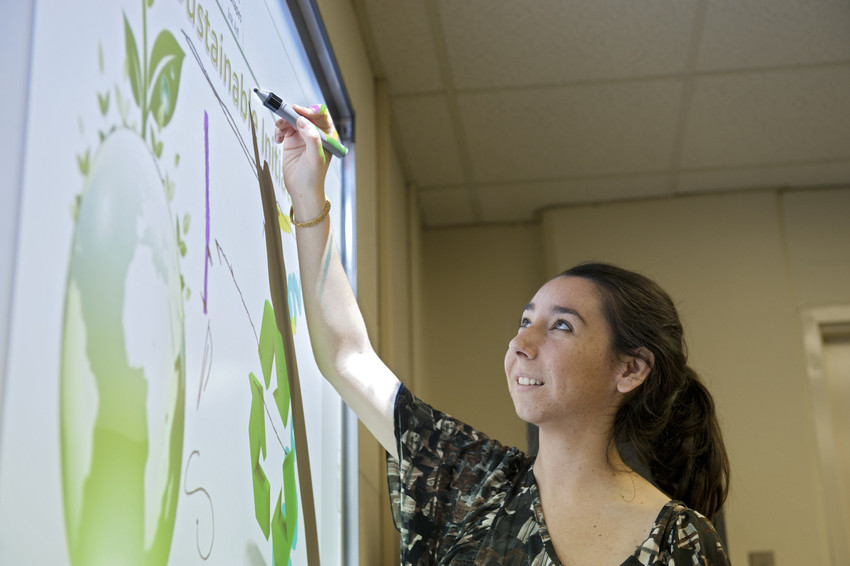 Concentration coordinator: Zoubeida Dagher
Elementary Teacher Education (ETE) students who pursue this concentration can become eligible for middle school science certification when they successfully complete the following courses with a grade of C- or better and pass the relevant Praxis II test identified on the Praxis II web page. Students must also have a minimum 2.75 GPA in their science courses, including BISC 104, GEOL 113, and SCEN 101, prior to enrolling in the student teaching experience EDUC 400.
Please note that the middle school science concentration does not lead to teacher certification in New York State because the science certifications in this state are in specific content areas (e.g., biology) instead of in general middle school science. This concentration does lead to teacher certification in other states.
Course Requirements
Core Courses
SCEN 650
Scientific Inquiry for Current and Future Teachers
3
EDUC 404
Teaching Science in the Middle School
3
EDUC 400
Student Teaching: Middle School Science
6
Physical Science Courses (6 credits)
CHEM
101/102/103/104/105/111/112: General Chemistry
3-4
CHEM 106
Elementary Bioorganic Chemistry
5
CHEM 120
Quantitative Chemistry
3
PHYS 133
Introduction to Astronomy OR PHYS 144: Concepts of the Universe
3-4
PHYS 139
Star and Constellation Identification
1
PHYS 141
Light, Lasers, Cameras, Perception
3
PHYS 143
Energy, Technology and Society
3
PHYS 144
Concepts of the Universe
3
PHYS 145
Black Holes and Cosmic Evolution
3
PHYS 146
Quarks, Gluons, and the Big Bang: Particles and Cosmology
3
Earth Science Courses (3 credits)
GEOG 101
Physical Geography: Climatic Processes
3
GEOG 106
Physical Geography: Land Surface Processes
3
GEOG 152
Climate and Life
4
GEOG 220
Meteorology
3
GEOL 105
Geological Hazards and Their Human Impact
3
GEOL 108
Volcanoes and Earthquakes
3
GEOL 109
Planets, Asteroids and Impacts
3
GEOL 110
Earth History
4
GEOL 111
Geology of Delaware and Its Neighbors
3
GEOL 115
Geological Hazards Laboratory
1
GEOL 120
Life's a Beach: Geological Processes & Living with the Coast
3
GEOL 202
Earth Materials
4
GEOL/MAST 215
Full of Hot Air Understand Climate Chg
3
GEOL 341
Climate and Climate Change
3
MAST 200
The Oceans
3
Environmental Science Courses (3 credits)
BISC 127
Environments and Cultures in Conflict
4
CHEM 100
Chemistry and Human Environment
3
ENWC 201
Wildlife Conservation and Ecology
3
ENWC 205
Insects and Society
3
ENWC 214
Apiology and Apiculture
2
ENWC 215
Insects and Society Laboratory
1
ENWC 224
Apiology and Apiculture Laboratory
1
GEOG 230
Human Impact on the Environment
3
GEOG 235
Conservation of Natural Resources
3
GEOL 112
Earth Resources and Public Policy
3
PLSC 105
Introductory Forestry
3
PLSC 140
People and Plants: Feast or Famine
3
PLSC 170
Soils and Environmental Quality
3
PLSC 204
Introduction to Soil Science
3