New endowed professorship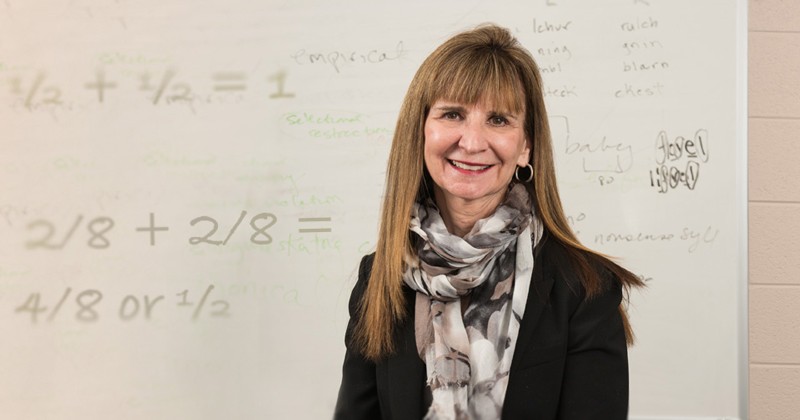 Renowned scholar Nancy C. Jordan appointed to Dean Family Endowed Professorship for Teacher Education
"There is no great university without a great faculty," said former University of Delaware President David P. Roselle nearly 15 years ago. "Endowed professorships are an important way to support a great faculty, because they are helpful in recruiting and retaining the best professors."
Continuing in that tradition of fostering a faculty of world-class professors dedicated to teaching, research and service, the College of Education and Human Development (CEHD) is proud to announce the university's newest endowed professorship.
Nancy C. Jordan, a renowned researcher and professor in UD's School of Education, will become the first faculty member appointed to the Dean Family Endowed Professorship for Teacher Education, which was provided through a charitable trust for the purpose of attracting and retaining an outstanding educator and scholar.
"Dr. Jordan is an internationally-recognized, impactful scholar and teacher who has created a large body of usable knowledge – one that is addressing a critical societal problem," Roberta M. Golinkoff, the Unidel H. Rodney Sharp Professor of Education, wrote in her nomination letter of recommendation. "There is no question that Nancy Jordan is deserving of the Dean Family Endowed Professorship."
World Renowned Researcher
The scope of Jordan's accomplishments is staggering. Her research has been published in virtually every high-profile academic journal in the fields of education and learning. It's not unusual for her to publish four or five articles in a single calendar year. It is estimated that her scholarship has been cited over 9,000 times.
She's been awarded more million-dollar grants since 2003 than most researchers achieve in a lifetime. Her highly-influential project, "Improving Understanding of Fractions among Students with Mathematical Learning Difficulties," was funded by the U. S. Department of Education's Institute of Education Sciences (IES) to the tune of $9.9 million. In total, Jordan's research has attracted nearly $17 million in external grant funding.
Jordan's research is foundational in every sense of the word. Not only because her publications are required reading in schools of education worldwide, but also because her research has enhanced our understanding of how elementary-age students learn and retain mathematical knowledge. Jordan's research, conducted in partnership with colleagues at UD and various other universities, established correlations of mathematical proficiency in young children, demonstrating that a child's competency in kindergarten predicts achievement through at least third grade. Her research also revealed that kindergartners from low-income families are much more likely to follow a low performance, flat growth learning path in math than are middle-income kindergartners.
This research project culminated in Numbers Sense Interventions, a widely-used curriculum for teachers to help at-risk students.
"Jordan is a true teacher-scholar, rigorously attuned not only to academic research but also the ways in which that research translates into classroom instruction," said Chrystalla Mouza, director of UD's School of Education and Distinguished Professor of Teacher Education. "It's one thing to show that problems exist. It's something else entirely to develop curriculum for teachers to help their students overcome learning challenges. This is what makes Jordan a truly masterful scholar."
Teacher and Mentor
Since joining the university in 1995, Jordan has mentored countless students and postdoctoral fellows who are now successful scholars at universities and research institutions across the nation, including the University of Southern California, Pennsylvania State University, the University of the Sciences and Pace University. She has served on numerous undergraduate and graduate thesis committees and regularly funds students in learning sciences, school psychology and the elementary teacher education program on her grants.
Moreover, as a mentor, Jordan provides guidance and the professional development they need to be successful in their careers. She generously includes her students and fellows on her publications and presentations and provides them opportunities assume leadership roles.
"The guidance Dr. Jordan provides for her students is truly above and beyond what is expected of a doctoral advisor," said Jessica Rodrigues, who earned her doctorate in education from UD in 2017. Jordan served as Rodrigues' doctoral advisor and dissertation chair.
Now a postdoctoral research scholar at the USC, Rodrigues said, "Even in my current position, she continues to take time out of her busy schedule to offer me invaluable career advice and to support my research goals. I will always consider myself one of Dr. Jordan's students."
Jordan was the graduate advisor for Brenna Hassinger-Das, now an assistant professor of psychology at Pace University. In 2013, Hassinger-Das graduated with a doctorate in education with a specialization in learning sciences.
"An important aspect of Nancy's interactions with students is her ability to provide just the right amount of structure while still allowing students to have a sense of independence," Hassinger-Das said. "I found her approach to be so helpful as I went on to pursue a postdoctoral fellowship and now as an assistant professor. I have the skills I need to be successful, thanks in large part to her mentorship."
But even beyond the rigors of the classroom, Jordan's influence extends to the example she sets as an instructor and mentor.
"When working with Nancy as a doctoral student, I appreciated how available and responsive she was," said Nicole Hansen, assistant professor at the Peter Sammartino School of Education at Fairleigh Dickinson University. "She promotes a sense of community – not competition – in her lab and encourages collaboration. The personal and professional relationships I formed during my time in Nancy's lab were invaluable as I transitioned into my current position."
Article by Jordan Howell
Photo illustration by Jeffrey C. Chase