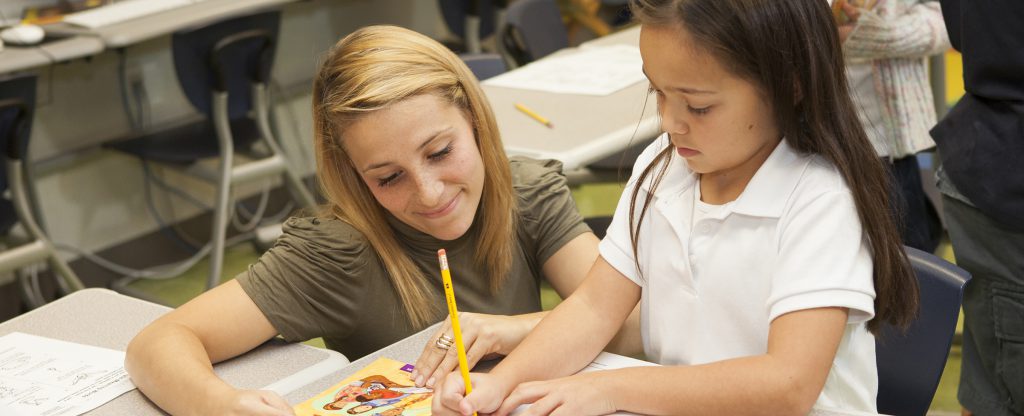 Becoming a teacher is a great way to positively influence the next generation and the community around you.
Teachers are driven to challenge themselves as well as their students to become the best they can be.  The teacher education programs at the University of Delaware provide high quality preparation using the latest research in preparing tomorrow's education professionals.
Candidates who want to become certified teachers need to either graduate from an approved teacher education degree program at the bachelor's or master's level, or become certified through an alternative routes method.
Teacher Education Degree Programs at UD
There are six colleges at the University of Delaware, including the College of Education and Human Development, that are involved in preparing teachers.
Within the School of Education, candidates can earn teacher certification through the following programs:
Master's degrees that grant initial certification include:
Early Childhood Education is offered through the Department of Human Development and Family Studies.
Secondary Education undergraduate and graduate initial certification programs are housed in several colleges.
The professional education unit of the University of Delaware is accredited by the Council for the Accreditation of Educator Preparation (CAEP). The individual teacher education programs have received State Approved Program status and have been recognized by national specialty organizations as having met their standards. Students who complete a University of Delaware State Approved Teacher Education Program, including achieving a passing score on all tests required by the State of Delaware for teacher certification at the time of their graduation, will receive the University's institutional recommendation for teacher certification. Institutional Recommendation is necessary to apply for certification in all states. See below for more about teacher certification.
Alternative Routes to Certification
The College of Education and Human Development (CEHD) offers an Alternative Routes to Certification (ARTC) program for people with bachelor's degrees in certain fields who are interested in entering the teaching profession. This program allows candidates in high needs areas to earn a secondary teacher certification (grades 6-12) while actually teaching full-time.
Teacher Certification
Teacher licensure or certification is different in every state. The Educational Testing Service (ETS) administers the Praxis tests (which are required for licensure in many states) and the ETS website has information about the requirements for each state.
There is also some great information online about certification. You can also check with the Department of Education in the state(s) in which you might want to become eligible for certification to be sure your academic degree program meets those requirements.
Professional Development
CEHD also offers professional development opportunities for teachers who are already certified and are looking to advance their knowledge.
Connect with the School of Education