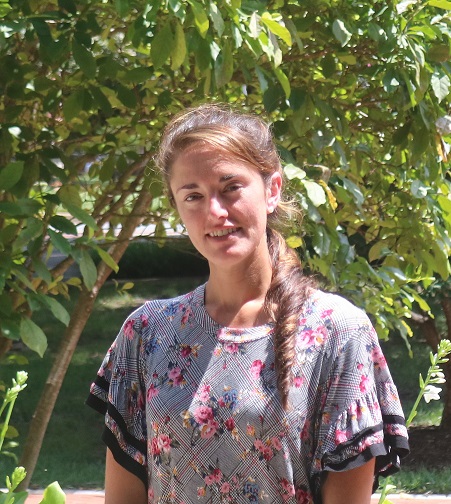 Cohort: 2017
Advisor(s):
Elizabeth Soslau
Assistantship
School of Education
Investigating Backward Transfer Effects in the Context of Instructional Activities About Linear and Quadratic Functions
Delaware Center for Teacher Education
Specialization(s):
Sociocultural and Community-based Approaches
Sara Gartland
Sara Gartland is a Ph.D. in Education student specializing in Sociocultural and Community-based Approaches in the School of Education at the University of Delaware. Her research interests include understanding student perceptions of school-community relationships.
Sara earned a B.A. in History and a B.A. in Secondary Mathematics Education from UD prior to spending five years working as a high school mathematics teacher. She taught versions of Algebra, Geometry, Trigonometry, and Calculus to ninth to twelfth grade students at Elkton High School. While teaching, she took on leadership roles by planning professional development sessions and serving on curriculum writing teams. During that time, she also earned her M.Ed. in Teacher Leadership through the online program at UD.
Education
M.Ed. in Teacher Leadership, University of Delaware, Newark, DE  (2017)
B.A. in Secondary Math Education, University of Delaware, Newark, DE  (2012)
B.A. in History, University of Delaware, Newark, DE  (2012)
Professional Experience
Graduate Research Assistant, School of Education, University of Delaware, 2017–present
Graduate Assistant, Delaware Center for Teacher Education, University of Delaware, 2018–present
Curriculum Writer, Cecil County Public Schools, MD, 2013–2017
School Improvement Team Member, Elkton High School, Elkton, MD, 2014–2016
Publications
Presentations
Hohensee, C., Willoughby, L., & Gartland, S. (2018, July). Backward transfer effects when learning about quadratic functions. Oral Communication given at the 42nd annual meeting of the International Group for the Psychology of Mathematics Education, Umeå, Sweden.
Gartland, S. (2018, May). Student voice and perceptions when learning in the context of community. Steele Symposium, Newark, DE