Congratulations to our 2016 graduates!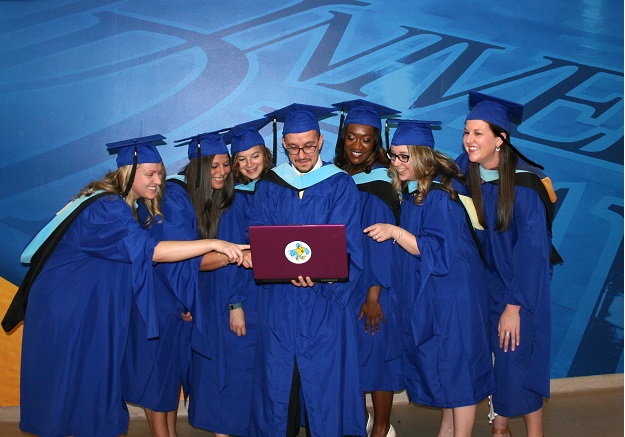 Over Memorial Day weekend, 362 students graduated from
UD's College of Education and Human Development
with undergraduate degrees, associate of arts, career and life studies certifications, master's and doctorates. This year, we graduated our first cohort enrolled in our
online master's in teacher leadership
. Seventeen students received a degree in this two-year, fully online program. This program allowed them to grow from teachers to leaders in their school and guide their colleagues in becoming stronger educators. Our graduates have demonstrated a commitment to making a difference in the lives of children and families, locally and around the world. They have conducted research, provided valuable services to the community and embraced a gained a global perspective to teaching and learning. Our education students now engage in two semesters of student teaching using the
coteaching model
, which provides them with classroom experience in both their fields of
teaching certification
. Because of this field experience and the strength of our program, many have already accepted jobs or enrolled in prestigious graduate schools. They will pursue post-graduate careers or further education at:
Urban Promise
City Year Americorps in California
Success Academy in New York City
Schools in DE, MD, PA, MA, VA, Spain and Kuwait
Columbia University
Johns Hopkins University
Temple University
We offer them a hearty congratulations and look forward to seeing them at Alumni Weekend.  Blue Hens forever!
Graduate profiles
Shelby Dorr, a graduate of our M.Ed. in Exceptional Children and Youth 4+1 program, spoke at CEHD's May 27 convocation ceremony. She traveled to Nicaragua on UD's first international alternative spring break (UDAB) and obtained a job at UD's April 20 Project Search. Lucy Font, an ArtsBridge Scholar, and Elementary Teacher Education (ETE) graduate, developed a math curriculum using dance to better engage students. Kevin Bessone was the first in his family to graduate college. More impressively, he received his degree in human services at the age of 73! Christy Mannering, a fall 2015 graduate, was named a Delaware Mover and Shaker for her  work raising awareness about domestic abuse and sexual assault and helping her young son establish 3B Brae's Brown Bags, providing more than 7,000 healthy snacks to the homeless. Caitlin Miller, an ETE graduate, provided an overview of her experiences as an ETE student. Janell Booker and Zach Martin gained life skills and working experience through the Center for Disabilities Studies Career & Life Studies Certificate (CLSC) program.
UD's 167th Commencement
Social media
UDaily articles
Article by Alison Burris Photos courtesy of Alison Burris and Elizabeth Pemberton