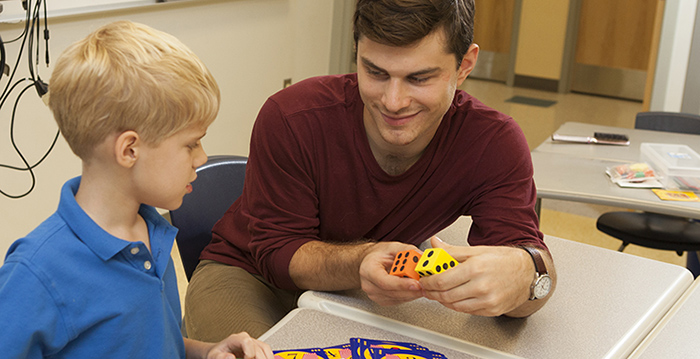 The faculty in the School of Education are actively engaged in research projects that study important problems in our schools and challenges encountered by students and educators. Below is a sample of the many projects that illustrate the faculty's dedication to improving the education of children.
Literacy
Investigating the Impact of Classroom Instruction and Literacy Skills on Writing Achievement in First Grade
This study provides a detailed picture of what effective writing instruction looks like in first grade and which approaches are more effective for students with a specific set of strengths or weaknesses. The 4-year, $1.4 million grant, funded by the Institute of Education Sciences, was awarded to David Coker, Charles (Skip) MacArthur and Liz Farley-Ripple.
Development of a Curriculum to Teach Writing in Postsecondary Developmental English Composition Classes
This project develops and evaluates writing curricula and instructional methods for community college developmental English composition courses. It will draw upon research on writing development and instructional methods with adolescents, particularly self-regulated strategy instruction, as writing instruction is adapted to the special needs of this population and the community college context. The 3-year project is funded by the Institute for Education Science, U.S. Department of Education awarded $880,000 to Charles MacArthur.
Increasing Vocabulary in Preschoolers: Using Cognitive Science to Guide Pedagogy
The purpose of this project is to create and test a novel approach to building preschool teachers' abilities to foster vocabulary and therefore, broader language skills among preschool children from low-income homes. The $50K 3-year grant (subcontract from Vanderbilt) awarded to Roberta Golinkoff serves to understand how children acquire vocabulary through storybook reading. The project evaluates different teaching strategies and how they affect children's vocabulary.
Using Developmental Science to Create a Computerized Preschool Language Assessment
The purpose of this $2.8 million 4-year project awarded to Roberta Golinkoff is to develop a reliable, valid, norm-ready, research-driven, and culturally sensitive computer-based language assessment for children 3- to 5-years-old that can be administered in 20 minutes. The preschool language assessment tool is intended to be an easily administered, automatically scored tool, appropriate for teachers, paraprofessionals, and professionals. The tool will have the capacity to quickly and automatically derive individual and group language profiles in two areas of competency: vocabulary & word learning strategies, and grammar and the use of syntax in comprehension.
Mathematics
Steadily Improving the Mathematics Preparation of K-8 Teachers
With 13 years of funding from the National Science Foundation (NSF) totaling about $6 million, the mathematics education group in the School of Education has been studying and improving the mathematics content and teaching methods courses offered for pre-service teachers. Some of their current funding is from the NSF REESE (Research and Evaluation on Education in Science and Engineering) program. Faculty and doctoral students have designed a continuing-improving system for course instructors to develop research-based improvements each semester for selected lessons in each course.
Teaching Fractions
The Institute of Education Sciences awarded a $10 million grant to UD professor Nancy C. Jordan, Lynn Fuchs at Vanderbilt University and Robert Siegler at Carnegie Mellon University, to fund a research and development center aimed at understanding difficulties students have with fractions. The Center for Improving Learning of Fractions, administered at UD, focuses on improving math instruction for elementary and middle school children who have problems with math concepts, specifically fractions.
Number Sense Intervention Project 
Nancy C. Jordan is the director of the Number Sense Intervention Project which is funded by NICHD.  The aim of the project is to develop and test a number sense intervention for children at risk for math learning difficulties.  The project focuses on teaching key number skills to low-income kindergartners in Delaware.
The Longitudinal Relationship between Geometric, Mathematical, and Spatial Skills in Preschool and Kindergarten
To uncover the links between geometric, mathematical and spatial skills, this $17K 1-year project awarded to Roberta Golinkoff follows children from a previously completed longitudinal study into their kindergarten year. Testing will be completed on 80+ children identified from the original sample on two measures of spatial skill and two measures of mathematical skill. It is anticipated that children will have to be seen twice at their schools to complete the assessments.
SHAPE UP!:  Preschoolers Geometric Sense Predicts Future Mathematics Achievement
This $880K 3-year study conducted by Roberta Golinkoff follows a group of preschoolers over the course of 14 months and assesses the development their geometric and mathematical ability using a suite of innovative new tasks involving manipulating two- and three-dimensional shapes. The results of this study set the foundation for the creation of preschool curricula that can enhance young children's geometric-spatial skills prior to kindergarten thus starting them on a good foot forward in science, technology, engineering or math.
School Improvement
The Role of Benchmark Data in School Improvement: Understanding Practices and Capacity Development Across Schools
Funded through the Spencer Foundation Data Use and Educational Improvement initiative, Elizabeth Farley-Ripple (School of Education) and Joan Buttram (Delaware Education Research and Development Center) seek to understand how schools use interim or benchmarking data to leverage school-wide improvement, as well as how their capacity to use these data develops.
Science of Learning
Science of Learning Center Initiatives for Translational Science: The Ultimate Block Party and LEARN
The purpose of this $75K 2-year project awarded to Roberta Golinkoff is to bring representatives of the Science of Learning Centers together to discuss ways to disseminate the rapidly accumulating science of learning to the lay public and to educators. The grant seeks to bridge the gap between developmental science and the community by increasing public participation in science through ventures such as the Ultimate Block Party.